Leadership & Ministry Team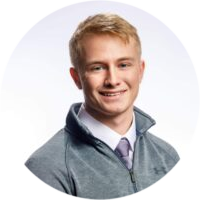 James Darby, Director of Youth Ministry
James comes from Jackson, MI and studied Pastoral Ministry at Bethel University in Mishawaka, IN completing his M.A. in Ministry there. While studying, James worked at a variety churches, ministering to folks of all ages. He was also part of a college leadership program, which allowed him to travel to different Christian summer camps and minister to students throughout the Midwest. Once he graduated from college, James worked as a personal banker for a few years before returning to vocational ministry. James enjoys telling and listening to stories and jokes, reading about important people and their lives, exercising, and cooking meals while creating his own recipe. He is also passionate about the Bible and desires to share this passion with anyone who cares to listen.
Jaymie Jackson has been married to her husband Mike for 20 years. They have three children, Maxwell, Addison, and Delaney. Jaymie grew up in a Baptist church and thanks her parents, grandparents and loving church family for influencing her faith. She was baptized in High School and loved her youth group named Praise. Praise would rehearse and perform skits similar to cantatas throughout the school year and for a week each summer they would take their performance on tour visiting many churches. She recalls going to Florida, Missouri, Michigan, and Tennessee and on those trips forming rewarding relationships with students and leaders. Jaymie volunteers in youth ministry so she can help students have experiences that form lasting friendships through showing God's love. Her favorite scripture is Jeremiah 29:11 – "For I know the plans I have for you, declares the Lord, plans to prosper you and not to harm you, plans to give you hope and a future." Jaymie has attended AUMC for over 18 years.
Katie Richman grew up in AUMC and is her home for more than 35 years! She is married to Doug Richman and they have two children, Sam and Jennifer. Katie was influenced in her faith by her father Bill Pfaffenberger, her youth leaders, P. Z. and David Sinclair, and her Sunday School leaders, Patsy Porter and Betty Vogel. Katie was also confirmed at AUMC at the age of 13. Some of Katie's favorite memories from youth group include lock-ins, sunrise services, and youth annual conference. She remembers the most that youth events gave feelings of fun, acceptance and love. Katie's go-to verse is Proverbs 3:5-6 – "Trust in the Lord with all your heart and lean not on your own understanding; in all your ways submit to him, and he will make your paths straight."
Emily Haney has attended AUMC for over eight years. She and her husband, Jeff, are celebrating 18 years of marriage and they have three beautiful children, Jenna, Mattie, and Cort. Emily grew up attending a Quaker meeting. She has always known Jesus but became closer to Him after attending summer church camp, and she remembers turning her heart over to Him at camp as a 5th grade student. Emily said there are so many wonderful people who helped influence her faith and she remembers being part of the youth council for all of Indiana in the Western Yearly Meeting. She was able to also attend weekend camps and gatherings with the Quakers which also impacted her faith journey. Emily has been volunteering in Children's and Youth Ministries ever since coming to AUMC!